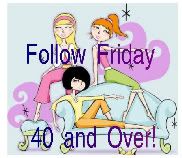 When did this become me? I mean over 40? Really? But I am ok. Anyway......
This weekend is going to be very busy! No football game tonight. Well, there is a football game but the powers that be (and they are all enjoying cigars and fine food somewhere in LA and NOT making sure the underlings here in California have a budget! and money for our kids! But I digress....) have decided that the band doesn't need money for buses for us to go support our team! Whatever! It's a night off!
Saturday day is all about Mater and softball (Mater and softball it must be saturday!!!! Four games and a 15 month old! yea!!) And saturday night is battle of the bands! All nine area high schools competing against each other!! Should be fun!!!
Sunday I have proclaimed to be cleanning day! Honey told the children everyone MUST be home by 8am Sunday, but didn't tell them why! I feel kinda bad cause at first they thought we were going somewhere until they asked what they should wear (yes my children plan like that!!) and I said, work clothes!!
Charging up the camera batteries as we speak!!!! Hope everyone has a fabulous weekend!!!!