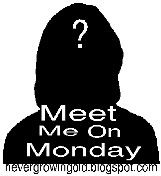 Blogging is a funny thing...we tell our most intimate thoughts for all to read and yet most of the time I find myself sitting and wondering, "who is this person!?" I know them...but yet I don't know them! I want to know who the person is behind all those words so I thought of a great way for all of us to "meet" each other!
Questions:
1. What is your favorite way to eat chicken?
Chicken with Rice. Yummy.
(None of the images are mine - camera is still broken and I need to send it out to be repaired!!

)
2. Have you decorated for Christmas yet?
No. Just not feeling it right now. Hopefully sometime this week.
3. What is your favorite article of clothing?
My pajamas. The second I get home, my pajamas go on.
4. Do you pay your bills online or write checks the old way?
On line.
5. Do you make Christmas cookies?
Every year, we head to Honeys dads and the kids make cookies from scratch and decorate them. Usually a day or two before Christmas Eve.