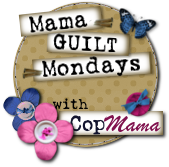 Cop Mama
is hosting Mama Guilt Mondays! Link it up folks!!!
So, here is mine: My parents had an American Eskimo named Yukon. Yukon was a herder. My dad found a place that allows you to bring your dog to his "ranch" and herd sheep. He went twice. The second time he asked if my daughter would like to go. She was so excited (this was a few years ago) the day of the herding arrived and she decided that would be a great time to start acting up and mouthing off. I told her she needed to behave or she wasn't going. She did not improve her behavior, so I called my dad and told him she couldn't go. (This is hard for me even now...) He understood. I went and it was so amazing. This guy gave a mini clinic on how the whole herding worked and then let you out to work the field. Yukon had so much fun!!! But my Dad never went back. My folks moved to Vegas and Yukon has since crossed the rainbow bridge. I have felt so awful that I didn't let her go.
A cute shot of Buddy!
I am going to school to process photos today. Honey has left for Arizona for a week for work. The upside is lots of computer time (going to be catching up on follow friday!!!) the downside is I don't handle her being gone very well. I know, I know!! But we are one of those couples that does just about everything together. We are not apart very often. I'm probably going to mope and drink wine!!!! More pictures later today!!!!

Don't forget to head over to
Cop Mama
and link up Mama Guilt Mondays!!!!