I choose this shot and this quote because nothing makes me happier then when I am working on my craft. Whether that be knitting, crocheting, photography, etc.
"There is nothing more inspiring than seeing a spider working her web, her craft, many times a day, with such perfection and careful patience."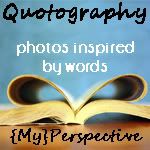 This boy also makes me happy....